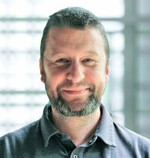 Marc Edwards
President, Chief Executive Officer, Director
Mr. Edwards was appointed as the President and CEO of the Corporation on September 10, 2018. He is the founder and President of VétRx Inc., a Montreal‐ based technology company specializing in data collection, cleansing, marketing and pharmaceutical compliance for the veterinary industry. He also co-founded and was vice president of Oxygen Corporate Health from 2003 to 2008 which was later acquired by CGI Inc. Mr. Edwards holds a bachelor's degree (Finance) from l'Université de Sherbrooke and an MBA from Concordia University. He is also the Board Chair of STEM Animal Health, a subsidiary of the Corporation, and is a Board member and past Chair of Toujour Ensemble Inc.
Mr. Morin is a corporate director who sits on the Boards of Strom Spa in Montreal, Immervision Inc. (Chair from 2010 to 2019), la Chamber de sécurité financière (Audit Committee and Chair of the Human Resources Committee), the Montreal Symphony Orchestra (Executive Committee and Chair of the Marketing Committee) and Canadian Tire Jumpstart Charities (Audit Committee). As a founding partner of Cossette, Canada's largest communications group, Mr. Morin was instrumental in the growth of the firm nationally from 1973 until he left the firm in 2009. Mr. Morin holds a BA in Business Administration from Laval University as well as an ICD.D designation from the Institute of Corporate Directors and has completed the Owner/President Management program at Harvard University.
Mr. Renaud is Chairman, CEO and President of Redecam Group, a global leader in providing highly engineered industrial air pollution control solutions. A graduate of Franklin College of Switzerland with a Bachelor of Arts in international financial management, Mr. Renaud has been instrumental in securing many private equity financings and has an extensive European and North American network. He is a past director and chairman of a number of publicly traded companies including Sierra Metals Inc.